Fresh off a dominant performance at the Dodge Mile High Nationals in Denver where she ...
Fresh off a dominant performance at the Dodge Mile High Nationals in Denver where she qualified #1, won the event, and leapt to #3 in points, Leah Pritchett is looking to ride the wave of momentum farther west into Sonoma for the Toyota NHRA Sonoma Nationals.
"Feeling every bit good about this Western Swing. As long of a week the Dodge Nationals was for our team, it feels like it has flown by. With Denver in our rear view mirror and a Wally on the dash, we feel good about our momentum going into Sonoma," said Leah about the team's resolve going into this weekend's event. There's an extreme change in elevation from Denver to Sonoma, so co-crew chief's Todd Okuhara and Joe Barlam will have their work cut out for them, as will car chief Scott Okuhara, but this is a trip the teams make each year. "From one extreme altitude to sea level, the race car components may change, but the motivation to keep winning and excel is still sky high. I know last weekend's success was more than just magic on the mountain. We know what it's like and what it takes to win back-to-back, and that is what we're focusing on." Last season, Leah scorched the track record to qualify #1, proving she and her crew know how to make that transition. For the second weekend in a row, Leah's car will feature a one-off graphics package. Her DSR dragster will wear the colors of Palomar Builders, which is owned by legendary top fuel racer Jeb Allen. Racing for (NHRA legend and owner of Palomar Builders) Jeb (Allen) is an honor and I look forward to racing with him on the line supporting us, and meeting all of his business associates that helped make it possible for us to compete in Sonoma this weekend," Pritchett says. "Let's see if we can win again with another new one-off livery!"
Pritchett's DSR teammate Antron Brown raced to a runner up last year at Sonoma, falling to good friend Steve Torrence in the finals. Brown and the Match Tools team have always had solid outings at Sonoma, so they're hoping to rebound from an untimely loss in round 1 at Denver this weekend. "We're going to Sonoma where it's always been a good race for us. It's always been a good race to break out and that's where we need to start, and just get the ball on our side and in our court." Brown and crew chiefs Mark Oswald and Brad Mason know a solid race weekend starts in qualifying, where they're hoping to earn a top-3 position going into raceday. "It all starts in qualifying – we have to qualify better, first, and that takes care of itself. When you qualify in the top three spots, it makes it a lot easier and better, so that's the game plan," Antron said of their plan of attack. The Matco Tools team has struggled to find their groove this season following the departure of crew chief Brian Corradi, but they've got experience and determination on their side, needing only a little luck and for things to gel within the team. "We've just got to fight and we know what we've got to do and we know what's at hand. Our main focus is to be ready when we get to the Countdown and that hasn't changed from day one this season."
Sitting in second place in points between Pritchett and points leader Steve Torrence is the Great Clips/Parts Plus/Strutmaster rocket ship and current quickest car on the planet, Clay Millican. After reeling off 8 straight round wins to take home the Wally's at both Topeka and Chicago, Millican has relied on consistency in qualifying and on race day to maintain his hold on the second spot. Millican and crew chief David Grubnic have found horsepower to be the easier part of the puzzle. Harnessing that power and keeping the rear tires planted during eliminations has been the only thing keeping them from winning many more rounds and several more races this season, but that's a stuggle many of the top teams have faced with the reduced traction conditions in place this season. Millican's team is young and hungry and are itching to make a run at the title, so look for them to focus more on consistency as the "regular season" winds down and the Countdown to the Championship inches closer. At this race a year ago, Clay qualified in the #8 spot and lost to Terry McMillen in the opening round when he spun the tires. So far this season, Clay and Company have made it past the first round at every event except for three, proving they've gained a lot of consistency compared to where they were at this point in 2017.
Ron Capps nearly gave Speed Society our first Nitro Double Up when he runnered-up last weekend, coming up just short in the finals against the legendary John Force. Capps and his NAPA Auto Parts crew, anchored by veteran tuner Rahn Tobler, are hoping to take that a step farther in Sonoma, a race that is near and dear to his heart. "This is probably one of the most exciting times of the year for me for a couple of reasons. First of all, growing up on the central coast of California, the Sonoma race track has always been sort of a 'home race' for me. This part of the season means that it's time for our annual family trip that coincides with the West Coast Swing." Capps is always greeted by a huge contingent of NAPA employees and customers at this race, which sold out last year. "Every year we have a huge contingent of NAPA AUTO PARTS customers come out and nothing's better than to be able to win with your friends and family and our great NAPA AUTO PARTS Northern California fans," said Capps of the huge support from the NorCal faithful.
Jonnie Lindberg once again put up one of the quickest losing elapsed times in round 1 at the last event in Denver, proving that his team is facing just as much terrible luck as they are anything else. Several times this year, Lindberg and the Jim Head-owned and tuned Head Racing Funny Car have put up numbers that would have won any of several other first round races, only to see their opponent put up their quickest run of the weekend in the opposite lane. This team has shown all year that they have the power to run with anybody in the class, they've just struggled to put it down consistently during eliminations. As we've said before, though, all this team needs is a lucky break or 2 and they'll be competing for a Wally in no time!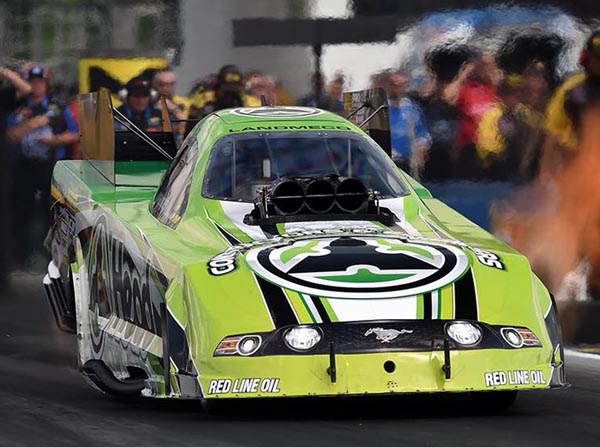 Alex Laughlin finally broke his twelve-race string of first round losses last weekend in Denver. Laughlin, who has come up with some innovative ways to lose this year, very nearly lost in the most implausible – for anybody except Alex, that is – way possible in the opening round at the Mile High Nationals. Pulling into the lanes to line up with Fernando Cuadra in what should have been the drag racing equivalent of golf's "gimme", Laughlin ran over something that cut his front tire, leaving his Fitzgerald team scrambling back to the pits to grab a replacement. Luckily, they were able to make the swap and get the win when Cuadra relighted, although his 7.07 would have been no match for Alex's 6.983 elapsed time. Alex faced off with Jason Line, the only regular driver on tour that Laughlin has yet to outrun, and Line once again came out the victor in a great side-by-side drag race, but Laughlin and crew were relieved to finally get that round one monkey off their back. Laughlin elected to skip the Western Swing last season due to financial constraints, but will be making the haul to Sonoma this year. The air out there is near sea-level, a factor that affects Pro Stock more than the nitro classes. Look for Crew Chief Mark Ingersoll and the entire Elite Motorsports team to have all 4 Elite Camaro's tuned up for the weekend.
You can follow the action in real-time on the NHRA All Access steam by following the link on their website, and for those who would rather watch it on the living room television, Fox Sports will be bringing you the action from the west coast. Look for Saturday Nitro Live on FS1 from 8-10pm ET and the NHRA Finals will be on FOX Sunday starting at 4pm ET!
Welcome to Toyota USA #SonomaNats race week! The NHRA roars into wine country, July 27-29. 🎟: http://bit.ly/294vC2p

Posted by NHRA on Tuesday, July 24, 2018